This is a simple day trading strategy with Bollinger Bands and RVI (Relative Vigor Index). In this trading system, you can find buy and sell trade set-up with the help of these two technical indicators. In this strategy, you can buy from oversold area and you can get sell signal from overbought area. Both indicators measures overbought and oversold area of the market. So you can get signals from the combination of these two indicators.

Required indicator:
(1) Bollinger Bands indicator
(2) RVI (Relative Vigor Index) indicator.

How to find buy signal
When market price comes to lower Bollinger Bands , then you need to find buy signal. When market touches lower band and pulled back from that level, you need to look at RVI indicator. When RVI makes crossover in the up direction, then you will get confirmation for buy entry.

Example of Buy set-up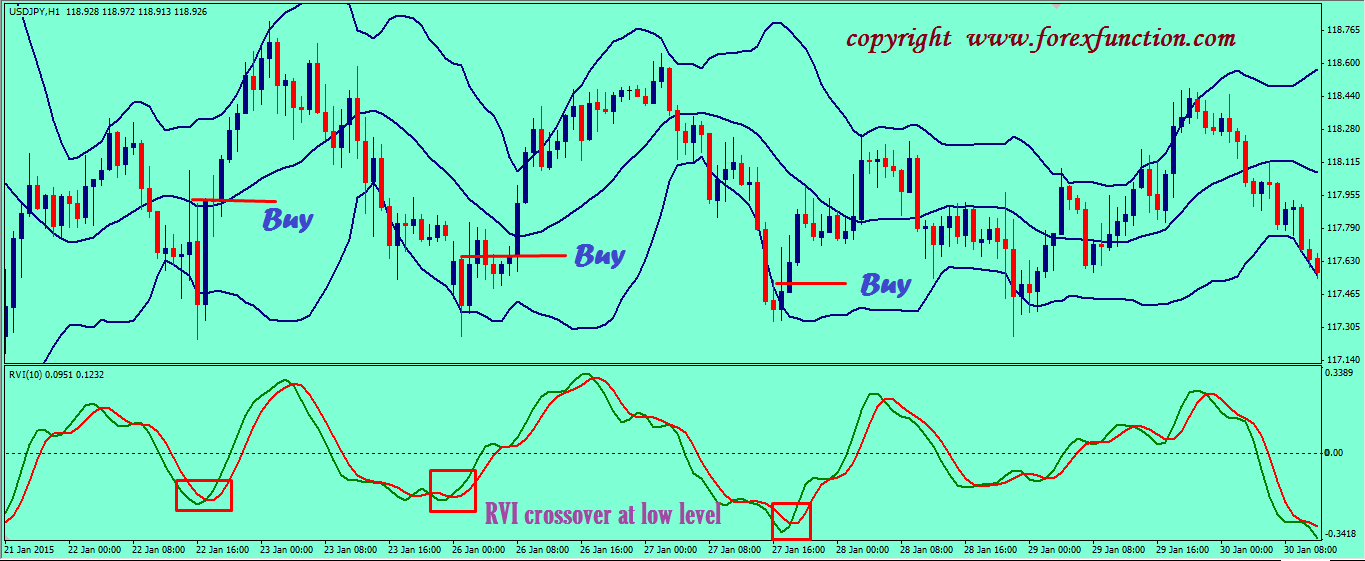 How to find Sell signal
In the higher Bollinger Bands , you need to find sell signal. When market price touches higher level and rejected from that level, then you have to look at RVI indicator. When RVI makes crossover in the down direction, then you will get sell set-up.

Example of sell set-up




Time frame: H1, H4 is suitable. You can test on other time frame.

Currency pairs: All pairs.

Take profit and Stop loss: Take profit should be 50-70 pips. Take profit can be higher for H4 and Daily time frame. For scalping purpose, you can set 30-50 pips take profit. When price goes to overbought area, then you need to close your buy trade. Similarly, for sell entry, you need to close your sell order, when market price comes to oversold area.
You can set stop loss based on recent support and resistance.

Risk warning: For taking entry, you need to get confirmation from both indicators. You must follow money management theory for following this strategy. You should take 1-2% risk only for your every trade. You need to practice this strategy for 2-3 months on demo and then you can use this trading system on your live account.
Submit Your Comments: