A Simple trading strategy is made by Bollinger Bands and Parabolic SAR. Bollinger Bands is used for identifying overbought and oversold of the market. Parabolic SAR gives reversible signal. So with the basic logic of these two indicators has been used in this trading strategy. Market price normally reverses from overbought and oversold area, Parabolic SAR confirms new trend. So this trading strategy is very effective and winning ratio of this strategy is very high.


Required indicator:

(1) Bollinger Bands indicator.

(2) Parabolic SAR Indicator


How to get buy signal

When market comes to lower bands of Bollinger Bands, it is considered as oversold area. You need to wait for rejection from this level. When the dots of Parabolic SAR appear below the price, then it confirms buy signal. You have to buy at the next candle like as below image.


How to get Sell signal

Upper band of Bollinger Bands indicates overbought area. When market rejects from upper bands, then you need to look at Parabolic SAR. When the dots of Parabolic SAR appear above market price, then it confirms sell signal. You have sell at the next candle like as below image.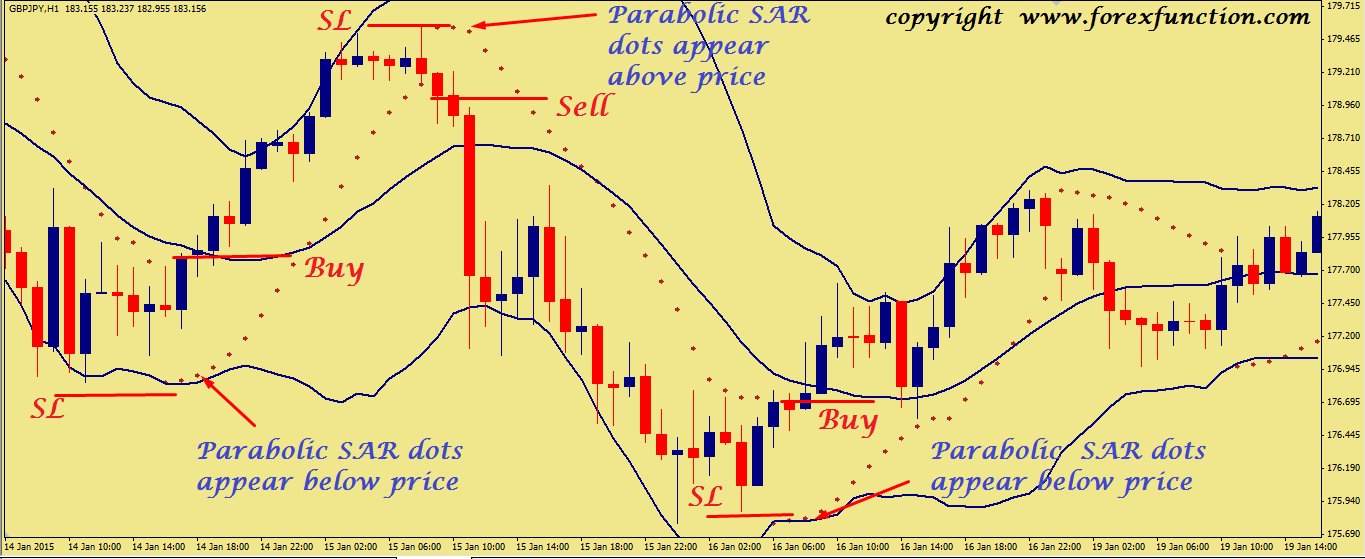 Time frame: H1 time frame is suitable. You can also use higher time frame.


Currency pairs: All pairs.


Take profit and Stop loss: You can set 60-80 pips take profit. You can exit manually when opposite signal comes. You can set stop loss above swing high for sell entry like above image. Similarly, for sell entry you have to set stop loss below swing low like as above image.


Risk warning: You can use this strategy only for trendy market. For ranging market, this strategy is not suitable. So you have to avoid this strategy on ranging market. You need to follow money management theory for following this strategy. If you are satisfied with this strategy then you can use this strategy on your real account.
Submit Your Comments: